They Aren't Worth Your Time
How to Spot a Fool
Keep an eye out for fools; they can keep you from living the life you're meant to live.
This is how to spot them! If you want to have wisdom you have to listen to God. Oftentimes that comes through other people. But you have to know how to spot a fool. Next time I will work on how to spot wisdom.
Here are two straightforward verses about fools.
It is better to heed the rebuke of a wise person than to listen to the song of fools.
The way of fools seems right to them but the wise listen to advice.
Even Webster agrees, that a fool is "a silly or stupid person; a person who lacks judgment or sense."
20+ Characteristics of a Fool Found in Proverbs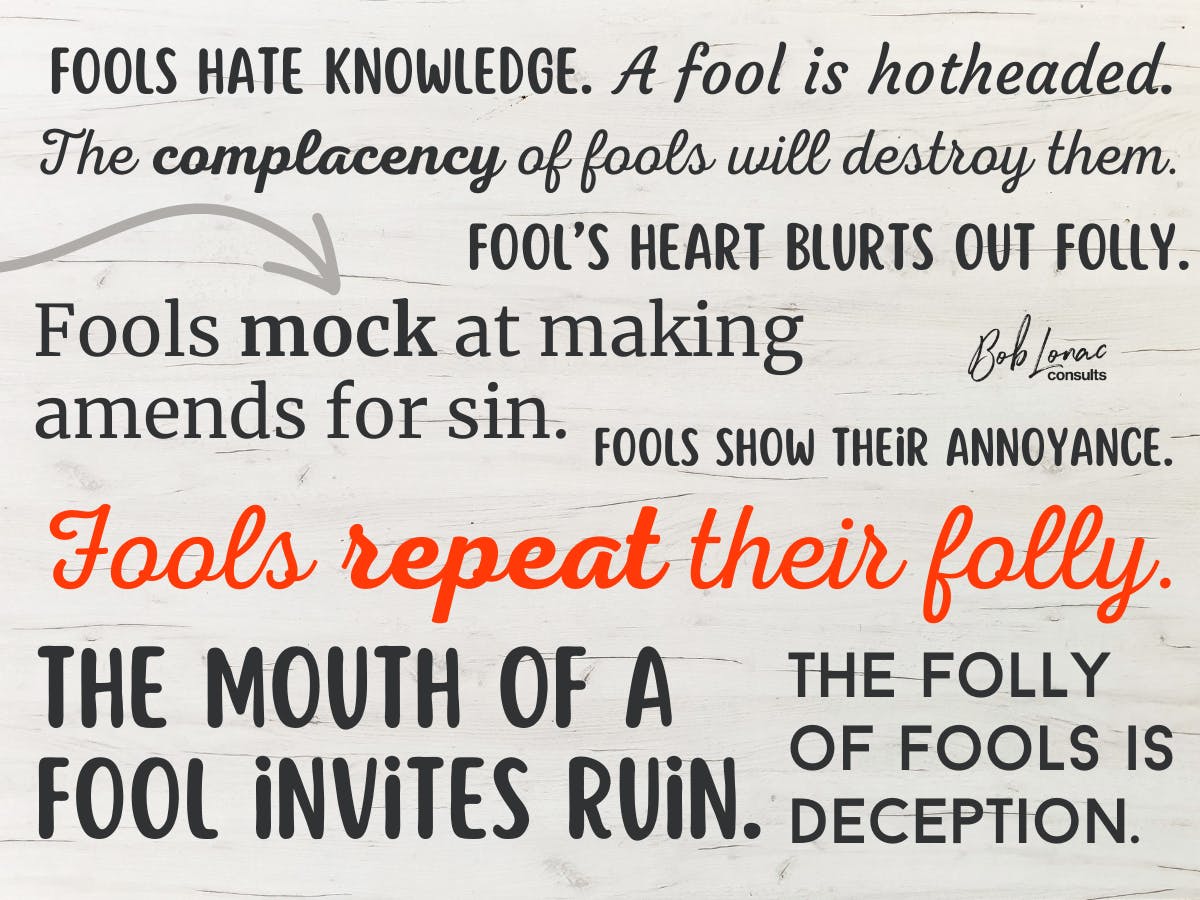 The word fool appears 72 times in the book of Proverbs! Here are some of the characteristics listed in this great book of the people written by King Solomon, the wisest person who ever lived (other than Jesus, of course).
These are a few that really stuck out to me:
Fools hate knowledge
The complacency of fools will destroy them.
A chattering fool comes to ruin.
Whoever conceals hatred with lying lips and spreads slander is a fool.
The mouth of a fool invites ruin.
Fools die for lack of sense.
A fool finds pleasure in wicked schemes.
Fools show their annoyance.
Fools detest turning from evil at once.
Fool's heart blurts out folly.
A fool's mouth lashes out with pride.
The folly of fools is deception.
Fools mock at making amends for sin.
A fool is hotheaded and yet feels secure.
A fool spurns a parent's discipline. 
A fool's eyes wander to the ends of the earth.
Fools find no pleasure in understanding
Every fool is quick to quarrel.
Fools repeat their folly.
Those who trust in themselves are fools.
The fool rages and scoffs, and there is no peace.
Fools give full vent to their rage.
There you have it. This is a long list, but worth thinking about. If you look for these characteristics you will find they are easy to spot. When you spot a fool, just move on. No need to engage with them. It is not worth your time.
Don't hang out with fools! Listen to the wise.
Next time we'll discuss how to find wisdom.